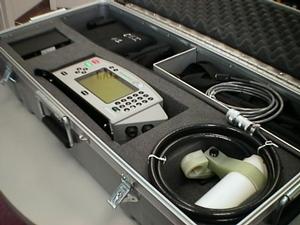 Equipment
To ensure that your project is completed quick and as cost-effectively as possible, we have invested in the latest state-of-the-art equipment.
Our firm owns a large inventory of state-of-the-art equipment to properly test and determine project conditions. Having an inventory of equipment allows us to insure the instrumentation has been properly maintained, calibrated and in good working order.
We are equipped to collect complete project evaluation information. Our firm has invested time and money in obtaining the best field equipment available and training experienced professionals. We believe that only through good project data is it possible to determine the real threat posed by an environmental or safety situation. Our equipment resources allow us to deliver project solutions by allowing us to be responsive, accurate and providing the expert documentation needed on every project.
Our equipment resources include laser particle counters, ground penetrating radar, infrared cameras, air gas measuring equipment, magnetic mapping magnetometer, ultrasonic leak detection testing equipment, sound analyzers and dosimeters, lead-based paint XRF analyzers, photo-ionization detectors, flame-ionization detectors, aerosol, dust, and climate monitoring equipment, HVAC analysis equipment, WBGT monitors, air sampling pumps, and bioaerosol sampling equipment, split-core samplers, coliwasas, and bailers, DNAP/LNAPL water interface probes, and well water testing equipment, soil infiltration and compaction probes, ultrasonic thickness gauges, transit and GPS equipment, laser ranging systems, blower door test equipment, and fiberscope equipment.